Create a MyFavorites account and save any before and afters you think you might like to use as examples to show us.
Slightly Extended Tummy Tuck with Breast Augmentation
Before

Slightly Extended Tummy Tuck with Breast Augmentation
After

Slightly Extended Tummy Tuck with Breast Augmentation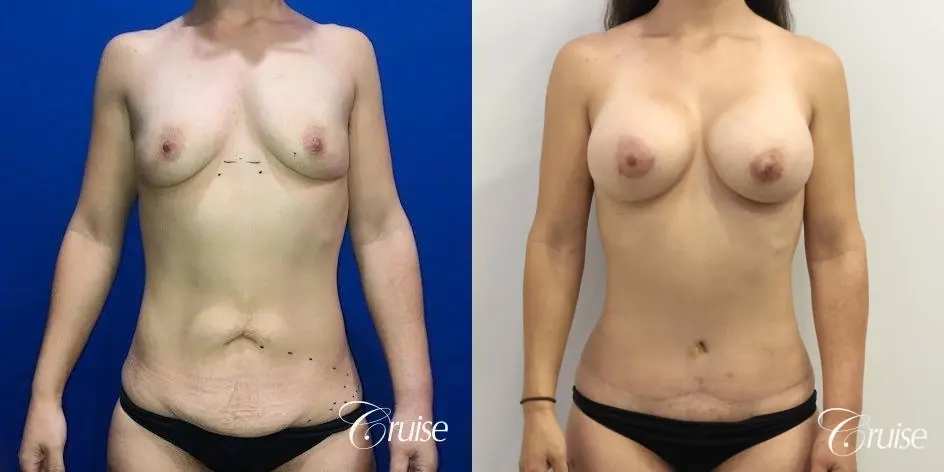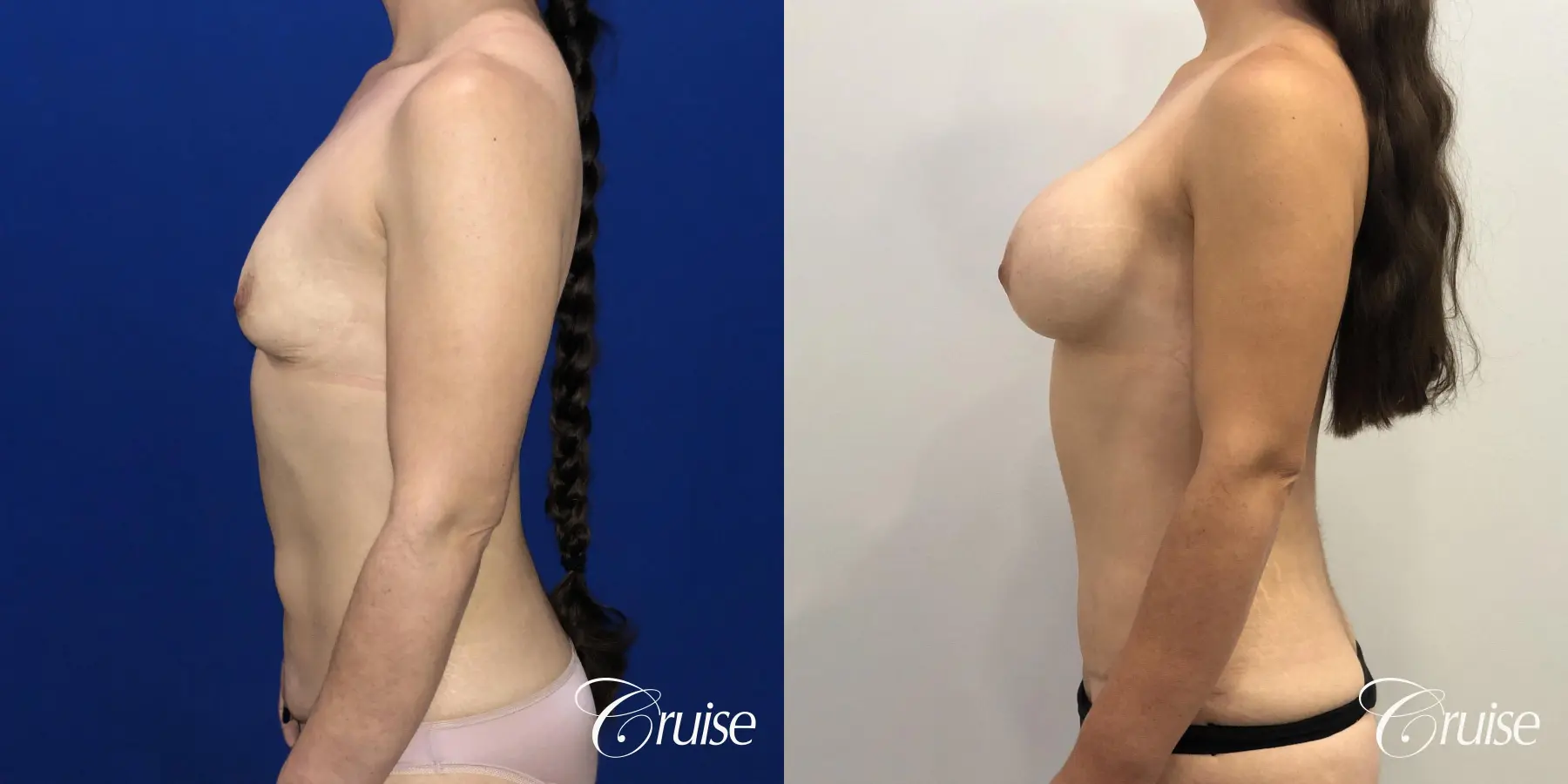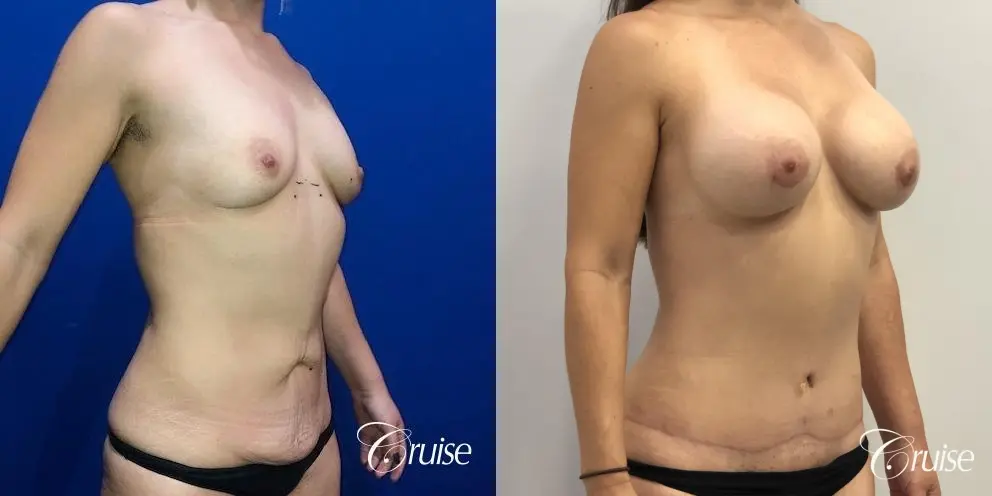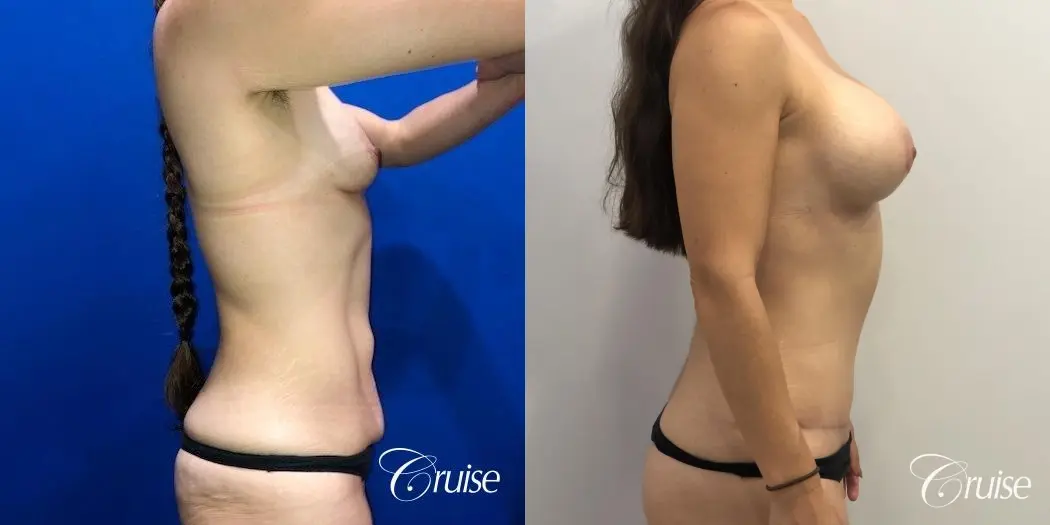 This patient is a mother of one in a great physical shape and extra skin on her abdomen as well as deflated breasts. She had a slightly extended tummy tuck and breast augmentation with 520 SRF implants.
Here is a review from the patient herself:
When I decided it was time for a "mommy makeover," I spent months scouring the interwebs, looking at boobs and belly buttons. Dr. Cruise had the most gorgeous looking belly buttons that I could find. If you speak with his office, you'll understand why. Dr. Cruise started in reconstructive surgery, so he knows exactly how to put bodies back together.
The day of my consultation, I met with Stephanie. She was sweet, warm, and energetic. She reflected my excitement and enthusiasm and made me feel so comfortable. The office has a wonderful setup, very warm and comfortable. Stephanie and I went through dozens of photos on the Doctor's touch screen. We talked about size, placement, shape. Did I want my implants high for upper fullness, how far apart? By the end, we had the whole breast augmentation mapped out.
When I met Dr. Cruise, I knew he was the surgeon I wanted. He was kind and warm, with a very funny sense of humor. He explained all the parts of the surgery to me, and was very patient with all of my questions.
On the day of surgery, everyone was very comforting. I didn't feel nervous at all. I got my IV and then I took a nice nap. When I woke up, I felt sleepy, but pain free.
I saw Dr. Cruise the next day for my past op, and I've been in once a week since to check in my healing. Stephanie and Dana have been wonderful attentive, I can reach out to them any time of day if I have a concern or an issue.
I'm four weeks post op now and I'm so happy with everything. This is the best decision that I've ever made for myself. I have nothing but wonderful things to say and the utmost gratitude to Dr. Cruise. Go for a consultation, you won't regret it.
Age: Between 36 and 45 years old
Weight: Between 135 and 145 pounds
Height: 5'4" to 5'7"
Gender: Female
Post-op Timeline: 3 months
Implant Type: Silicone Gel
Implant Shape: Round
Implant Incision: Periareolar
Volume: Between 500cc to 550cc
Implant Profile: High
Implant Projection: High
Implant Placement: Submuscular
Implant Base: Round
Pre-Surgery Bra Size: B
Post-Surgery Bra Size: D
Technique: Complete Muscle Coverage